BITSAT Syllabus 2020 is available here for download at free of cost. Candidates who are preparing for the BITS Admission Test 2020 can check the latest BITSAT Exam Syllabus and Paper Pattern here. Aspirants can also check Birla Institute of Technology and Science Admission Test Syllabus along with Exam Patten at the official website that is bitsadmission.com. Applicants can get more information like BITSAT 2020 Exam Date, Test Pattern, Exam Details from the below sections.
New BITSAT Syllabus 2020 – www.bitsadmission.com
BITS Admission Test Syllabus 2020 Updated. Willing aspirants can check the Birla Institute of Technical and Science Entrance Test Syllabus now. Along with the BITSAT 2020 Syllabus, we have also provided the Exam Pattern details on this page. So, aspirants can check the BITSAT Exam details such are the number of sections, Questions from each section, duration, etc. These BITSAT Paper Pattern details are very useful for the candidates to plan their preparation perfectly. After checking the Exam Pattern, candidates have a look at the BITS Entrance Exam Syllabus to get an idea about the subjects to prepare. Due to the heavy competition, hard work is must get qualify in the BITSAT 2020. So, aspirants must plan your exam preparation correctly with provided BITS Syllabus and Exam Pattern and go through it.
If you are aiming to get Admission in BITS Colleges located at Pilani, Goa & Hyderabad campuses you must Qualify in the BITSAT Exam 2020. It is a university level entrance test organized by Birla Institute of Technology and Science (BITS), Pilani. BITS conducts the Computer Based Online Examination every year for providing admission into all the integrated first-year degree in various UG and PG programs like B.Tech, B.Pharma, and M.Sc courses. So Candidates desirous of getting Admission in BITS must Qualify in the BITS Admission Test. Applicants will be selected by the Birla Institute of Technology & Science based on their BITSAT Score.
BITS Admission Test 2020 Details
| | |
| --- | --- |
| Name of University | Birla Institute of Technology & Science |
| Name of Exam | BITSAT |
| Examination Level | University Level |
| Courses | Graduation Courses |
| Application Mode | Online |
| Category | Syllabus |
| Application Starts from | January 11, 2020 |
| Online Application Ending Date | 11th May 2020(5.00 pm) Extended |
| Exam Date | 16th to 18th September and 21st to 23rd September |
| Official Website | www.bitsadmission.com |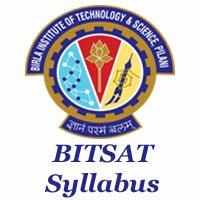 As there is a lot of Competition to the BITSAT Exam every year. Thus the perfect preparation is very essential. According to the Latest Schedule, BITSAT 2020 Exam for the Academic year 2020-21 is going to be conducted in 16th to 18th September and 21st to 23rd September, like Previous Exams. If you are planning to attend BITSAT 2020 Examination the first thing comes into mind is what will be the syllabus for the exam. So Now you may be in search of Syllabus for BITSAT 2020. For the sake of the Candidates, Here on our site, we are providing the BITSAT 2020 Syllabus along with the Exam Pattern. Make use of this Syllabus of BITSAT and Prepare well for the Test.
BITSAT Exam Pattern 2020 – BITS Entrance Test Pattern
S.No
Section
Subject
Number of Questions
Duration
1.
I
Physics
40
3 Hours
2.
II
Chemistry
40
3.
III
English Proficiency
15
4.
Logical Reasoning
10
5.
IV

Mathematics/Biology (For B.Pharm)

45
Total
150
The BITS Admission Test is a Computer Based Online Test consists of Objective Type Multiple Choice Questions.
BITSAT Question Paper consists of four sections.
The Question Paper will comprise of 150 objective type questions.
For each Correct Answer, three marks will be awarded and for each Wrong Answer, one mark will be deducted.
There is No Negative Marking for the Wrong Answer.
The Total Duration of the BITSAT Exam is Three Hours.
You can attempt as many questions as you can in 180 Minutes.
Along with the BITSAT Exam Syllabus getting an Idea about the Exam Pattern will also helpful in the Preparation of the Birla Institute of Technology and Science Admission Test. By knowing the BITS Pilani Exam Pattern you will know how many questions will be asked for each Topic. So that you can manage your time to prepare for various Subjects. For the Sake of the Students here on our website, we have also provided the BITSAT 2020 Exam Pattern along with the Syllabus. Check the BITSAT 2020 Test Pattern and be Prepared for the Exam.
Download BITSAT 2020 Syllabus Pdf @ bitsadmission.com
BITSAT Syllabus 2020 plays a very important role in the Preparation of the Birla Institute of Technology and Science Admission Test. As there is a lot of Competition to the BITSAT Exam Perfect Preparation and Time Management is very necessary. By knowing the topics covered in the Exam you can Manage your Time well by preparing the timetable for each topic.
BITS Admission Test Syllabus for Physics
Units & Measurement.
Kinematics.
Gravitation.
Oscillations.
Work and Energy.
Newton's Laws of Motion.
Impulse and Momentum.
Rotational Motion.
Mechanics of Solids and Fluids.
Electrostatics.
Magnetic Effect of Current.
Optics.
Waves.
Current Electricity.
Electromagnetic Induction.
Heat and Thermodynamics.
Modern Physics.
Electronic Devices.
BITSAT Syllabus for Chemistry
Atomic Structure.
The States of Matter.
Chemical Kinetics.
Electrochemistry.
Thermodynamics.
Physical and Chemical Equilibria.
Stereochemistry.
Surface Chemistry.
Chemical Bonding & Molecular Structure.
s-p-d and f-blocks elements.
Hydrogen and s-block elements.
Principles of Organic Chemistry and Hydrocarbon.
Theoretical Principles of Experimental Chemistry.
Organic Compounds with Functional Groups Containing Oxygen and Nitrogen.
Biological, Industrial and Environmental Chemistry.
BITSAT English Syllabus 2020
Reading Comprehension.
Verbal Reasoning.
Analogies
Verbal Ability.
Vocabulary.
Syllogisms.
Synonyms.
Antonyms.
Idioms & Phrases.
Conclusion.
Composition.
Comprehension.
Word Formation.
Error Correction.
Passage Correction.
Unseen Passages.
Theme detection.
Fill in the Blanks.
Sentence Correction.
Passage Completion.
Sentence Completion.
Subject-Verb Agreement.
Sentence Rearrangement.
BITSAT Exam Syllabus for Logical Reasoning
Binary Logic.
Syllogism.
Analogy.
Verbal Reasoning.
Non-verbal Reasoning.
Clocks & Calendars.
Puzzle Test.
Classification Test.
Alphabet Test.
Eligibility Test.
Data Sufficiency.
Theme Detection.
Coding-Decoding.
Blood Relations.
Series Completion.
Assertion & Reason.
Situation Reaction Test.
Direction Sense Test.
Statement – Conclusions.
Logical Venn Diagrams.
Number and Letter Series.
Statement – Arguments.
Logical Sequence of Words.
Arithmetical Reasoning.
Mathematical Operations.
Alpha Numeric Sequence Puzzle.
Inserting the Missing Character.
Number, Ranking & Time Sequence.
Linear and Matrix arrangement.
Deriving Conclusions from Passages.
BITSAT Mathematics Syllabus
Complex numbers.
Statistics.
Matrices Determinants.
Heights and Distances.
Sets, Relations & Functions.
The fundamental theorem of algebra.
Theory of Quadratic Equations.
Arithmetic, geometric and harmonic progressions.
Logarithms and their properties.
Exponential series.
Permutations and combinations.
Binomial theorem, Pascal's triangle.
Circles, Straight lines & Pair of straight lines.
Click Here for Detailed BITSAT 2020 Syllabus
BITSAT Previous Papers/ Model Papers
Practicing the Model Papers of BITSAT Exam is very important. Because though you have prepared really well if you are unable to manage the time you may not attempt all the questions in the Exam. So in these types of Competitive Exams, Time Management is very necessary. Hence Practicing Previous Papers makes you perform well in the Exam which clears your way for getting Admission in BITS. So Practice as many Old Papers as you can before attending the BITS Admission Test. You can Download BITSAT Sample Papers from the below link absolutely at free of cost.
Download BITSAT Previous Papers
Check the BITSAT Hall Ticket Release Details: Verify BITSAT Admit Card Download 2020
Candidates can stay visiting with us for BITSAT Syllabus Updates…